House spiders, jumping spiders, garden spiders - most of them are harmless but annoying, but some like the black widow and the brown recluse can inject venom into your skin that can cause skin necrosis, systemic illness, and even hemolysis and organ damage. Brown recluses love NJ closets and garages, so beware (although they usually only bite when they feel threatened).

Need Spider Extermination in NJ?
Some signs of spiders in your home are:

White silk sacs of spider eggs in dark corners around your home
Cobwebs in your windows, ceiling corners and light fixtures
It's not that we hate all spiders, because they can do a great job of catching flies and other undesirables. Some even catch scorpions, rodents and birds (but probably not the house spiders).
Exterminating Spiders
The best way to keep spiders at bay is to vacuum and dust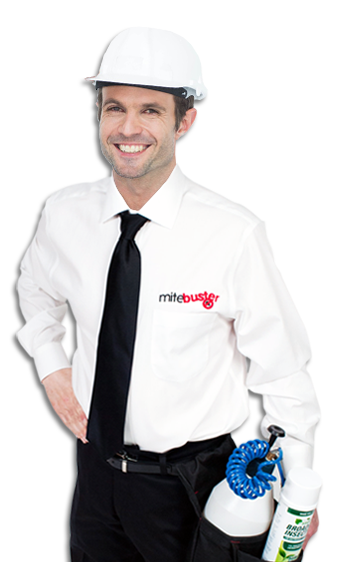 regularly, but any pest control methods you employ need to attack the present spots and future entry points of the spider clan. We have years of experience doing this, and our certified spider extermination specialists are ready for your call.

How We Exterminate Spiders in NJ
First we treat areas of infestation with an insecticide application, which will kill all spiders in those areas. Once that's done, we focus our attention on preventative measures - we spray the perimeter of your home and interior hot spots, seal entry points and give you tips on how to discourage their return. We believe MiteBuster's integrated NJ spider extermination system is the most efficient and cost-effective method you'll find.

Pest Control for Spiders in NJ
MiteBuster's NJ spider exterminators know how to stop these pests from claiming your home as theirs.