Welcome to MiteBuster.com!
BEDBUG EXTERMINATOR IN NJ | BEDBUG CONTROL NEW JERSEY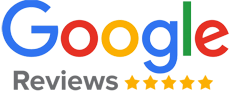 MiteBuster received an average rating of

4.8

out of

5

stars from

325

reviews. 4.8

Read Google Reviews
Call Today for a FREE Estimate!
888-670-6010
License - Bonded - Insured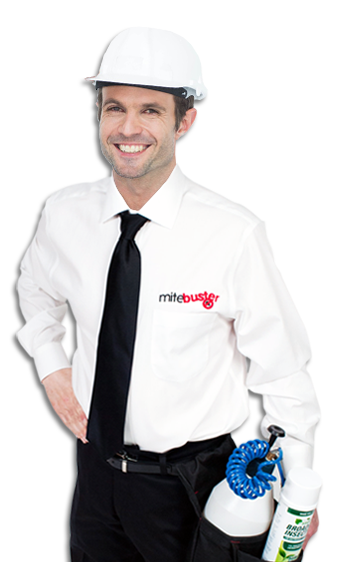 How We Exterminate Bedbugs
Our first step is to do a thorough inspection of the places bedbugs like to hide and lay their eggs, because they don't limit themselves to your bedding. Once we've pinpointed their hiding places, we steam treat your mattress and box spring – a bedbug's favorite spot to lay eggs. We give you free mattress covers for your mattress and box spring, and apply two 90-day professional-grade insecticides into every crack and crevice to prevent their return(natural pest control solutions also available). This combined approach is a very effective bedbug extermination process. MiteBuster can help you become bedbug free so CALL US NOW!
Pest Control for BedBugs in NJ
Vacuuming can stem the expansion of their little kingdom, but more measures need to be set in place to get rid of bedbugs completely, and we know how to get that done. There's a lot of information online about bedbug extermination methods, but as pest control experts, we'd love the opportunity to take care of every aspect of your bedbug problem. Our all-in-one, customized quote and extermination process will save you the expense of buying the wrong products, tossing out perfectly good furniture and buy new ones in replace of them.

Our pest control professionals we have access to commercial pesticide products that are not available over-the-counter. These products are significantly more affective and require a license to apply.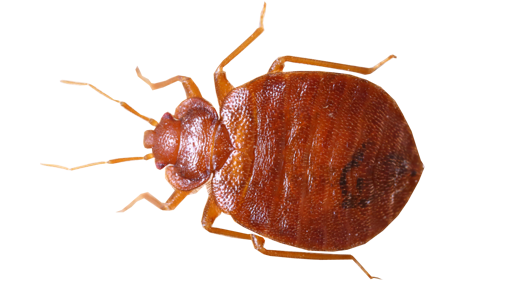 What are bedbugs?
Bedbugs are small, reddish-brown insects that feed on human blood. They are notoriously difficult to eradicate once they take up residence in a home or building. Bedbug extermination is a complex process that requires any of the following methods, including chemical treatments, heat treatments or both.

A bedbug is a parasite that feeds exclusively on blood, and he loves yours. While you sleep, a bedbug's "teeth" cut into your skin until they reach a blood vessel, and he follows this invasion with an injection of saliva, anticoagulants and painkillers before finishing his feast.


Where do bedbugs hide?
Bedbugs mostly enter your home on clothing, luggage and used furniture, and once inside, they hide in cracks and crevices near and in your beds and living room furniture. They'll hide even in your electronics, picture frames and paintings. Sometimes you can see the proof of their presence by the pen-like dots or smears on your sheets. They lay eggs by the hundreds, so as with any pest, the sooner you eradicate their presence, the better — though small, these pests can quickly take over your house and quickly become a nuisance.
How do I prepare for a bedbug treatment?
Preparing for bedbug extermination involves removing all clutter from the infested areas, including clothing, bedding, and other personal items. These items should be washed in hot water and dried on high heat to kill any bedbugs or eggs that may be present. Furniture and other items in the infested areas should be vacuumed thoroughly to remove any bedbugs or eggs that may be hiding in cracks and crevices.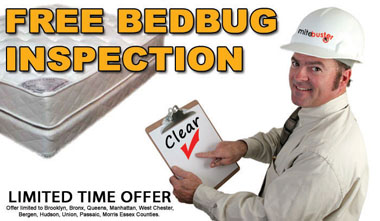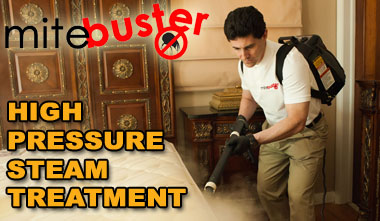 ✔ FREE Mattress Covers
✔ FREE Inspection and Consultation with service
✔ Thorough and Comprehensive BedBug Extermination
✔ Full Crack and Crevice Treatment for BedBugs
✔ Guaranteed Services
✔ Family Owned & Operated

How do you treat for bedbugs?
Chemical treatments are one of the most common methods used for bedbug extermination. These treatments involve the application of insecticides to the infested areas. Insecticides can be applied as sprays or dusts and are typically applied to areas where bedbugs are likely to hide, such as cracks and crevices in walls, floors, and furniture. Insecticides may need to be applied multiple times over a period of several weeks to ensure that all bedbugs and eggs have been eliminated.

Heat treatments are another effective method for bedbug extermination. Heat treatments involve raising the temperature in the infested areas to a level that is lethal to bedbugs and their eggs. This can be done using specialized equipment that heats the space to a temperature of 120-140 degrees Fahrenheit. Heat treatments are effective at killing bedbugs and their eggs in a single treatment, but they are typically very expensive and may not be practical for all situations. MiteBuster utilizes a thorough chemical treatment process with a combintation of insecticides that are top-rated in pest control for bedbugs.

In addition to these methods, there are a number of preventative measures that can be taken to reduce the risk of bedbug infestations. These include regularly inspecting bedding and furniture for signs of bedbugs, sealing cracks and crevices in walls and floors, and avoiding bringing used furniture and clothing into the home.


Need a Bedbug Exterminator in NJ?
Bedbug extermination is a complex process that requires a combination of different methods, including chemical treatments, heat treatments, and physical removal. Identifying infested areas, preparing the space for treatment, and using a combination of these methods can effectively eliminate bedbugs and their eggs. Additionally, taking preventative measures to reduce the risk of future infestations can help to ensure that bedbugs do not return. If you suspect that you have a bedbug infestation, it is important to seek professional assistance from a licensed pest control company to ensure that the infestation is properly identified and eliminated.
BedBug Bites and Risks
Bedbugs don't carry diseases, but they can give you skin rashes and blisters, and some people have allergic reactions to their bites. Their bites usually leave behind a welt similar to a mosquito bite and will leave a trail of 3-5 bites due to their search for a good nerve. Let's not mention the mental anguish over the thought of tiny creatures helping themselves to your precious resources during the darkest hours. BedBugs are nocturnal creatures who generally like to feed at night, typically between the hours of 3-5 AM.
CALL US NOW before it gets worse!
888-670-6010
And we'll do a free bed bug inspection & quote on-site.